Purple Mangosteens
The Purple Mangosteen is an exquisite tropical fruit which is often referred to as 'the queen of all fruit'.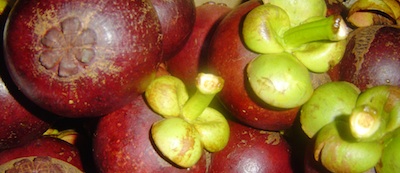 Heavenly Taste
The mangosteen fruit has a firm, thick rind with a smooth texture. Inside the skin is a juicy, pearly white segmented fruit known for its fabulous exotic flavour.
The refreshing edible flesh tastes sweet and citrusy with a hint of strawberries and grapes.
Health and Nutrition
The mangosteen is a source of important nutrients such as vitamin C, magnesium, potassium, phosphorus and calcium. It is rich in antioxidants and is a natural energy enhancer.
The whole mangosteen fruit is also valued for its therapeutic qualities and has been used for medicinal purposes in Ayurvedic and Chinese Herbal medicine for centuries.
Today, mangosteens are regarded as a 'superfood'.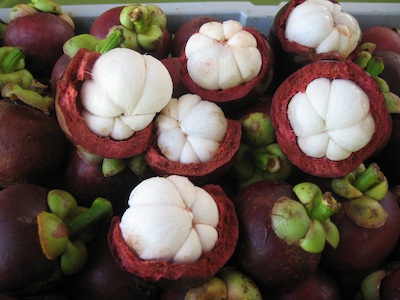 Serving Suggestions
Ideally mangosteens are best eaten as they are when first opened. They are also delicious added to fruit salads or as dessert toppings. If the flesh from the fruit is treated with a little lemon or lime juice they maintain their colour and keep well in the fridge, or they may be frozen for later use.
Selecting your Mangosteen
Mangosteen fruit can vary in size from 4 – 7cm in diameter, and are equally delicious regardless of size. The bigger fruit may have a seed in the larger segments and the number of segments in a fruit is directly related to the number of petals on the bottom of the rind.
When the skin is a rich red purple colour the fruit inside is ready to eat. The deep purple fruit are the sweetest, while fruit with a lighter skin colour are slightly more acidic. A green fruit will only ripen if it has a maroon blush of colour. It they are bluish black or the skin is hard the fruit is over-ripe. Skin imperfections are not an indication of the quality of the fruit.